BULLETIN BOARD
---
---
Echo Point Shooting Range Issues:
The township is working towards a solution to the increased noise issues generated by the remodeled shooting range. If you have any issues with the noise or any other issues with the shooting range, please call the DNR hotline and leave your complaint via voice or text: 800-292-7800.
Together, we can work towards a comprimise with the DNR to reduce the increased volume coming from the shooting range.
---
Then choose the department desired for the contact information
---
Short-Term Rental Issues:
The Planning Commission will be discussing the issues relating to Short-Term Rentals in the Township. Current zoning does not allow Short-term rentals in a residential district. The Planning Commission meets on the fourth Tuesday of each month at 7:00pm.
---
New Videos to help Protect Michigan's Shorelines
The state Department of Environment, Great Lakes and Energy has created a series of new videos to promote the Michigan Shoreland Stewards Program to help residents who live along a shoreland (lakes and streams) protect the environment of their home and water quality. Currently, there are five videos available on such topics as shoreline zone, buffer zone, lake zone and others.
---
Newsletters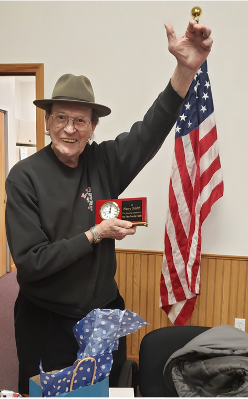 Harry Smith has retired from his positions with the township. We appreciate all of his hard work, valued service and commitment over his 40 years of service to the township. Good Luck, Harry!
---
PROPER DISPOSAL OF UNNEEDED MEDICATIONS
---
Trouble with your Cable Provider?
This is a link to the DISPUTE RESOLUTION PROCESS which allows customers who are unable to resolve their video/cable televison complaints with their provider to file a complaint with the MPSC (Michigan Public Service Commission).
---
RECYCLING: When you are running low on the yellow recycling bags, use the enclosed yellow card in your roll of yellow bags to request more bags by hanging or taping the card to your cart on the day of your pickup. The Township Hall has extra Chef Yellow Bags for recycling if you do run out. Stop by normal office hours if you need a roll of bags.
---
Links to "How To" Building Videos
A starting point in your project. See what's involved before you begin.

Attention Homeowners and Roofers:
STRUCTURAL RE-ROOFING YOUR HOUSE REQUIRES A BUILDING PERMIT. Replacing shingles only does not require a permit.
LINK TO PERMITS
---
Burn Permit: 269-686-5222
---
---
The Importance of Getting a Permit (building, mechanical, electrical, plumbing)
Board Members 2012-2016 - Photos

---
Allegan County History
Do you want to know more about the history of our area? Check out this link:
Allegan County History
---
Building and Electrical Permits
Valley Township now issues Building permits, Electrical permits, and inspections for the township
Link to permit applications
---
Meetings

---
Notary Services
The Clerk's office provides Notary services to residents free of charge.